Slamhandle for Citroen Relay - [19 > Current]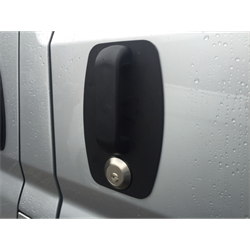 How does it work?
The L4V Slamhandle is a powder-coated stainless steel replacement handle, providing effective security with internal strengthening plates and an L4V Slamlock. Once the door is shut it locks automatically and can only be opened using the Slamlock key.
Key Features:
- Maximum security with a straightforward installation by integrating with the vehicle O.E. locking system
- High-security slam operation, combining high visual deterrence with a pleasing appearance
- L4V cylinders, housings and plugs are plated in highly durable satin nickel to maintain a long-lasting appearance and consistent performance
- Lock kits are vehicle specific and contain all the required fixings, fittings and instructions to enable a technician to perform a professional installation
- We supply each kit with 3 keys
- Next-day delivery
Please look at Key Options to assist with choosing the correct key system for your requirement.
Slamhandle kits are automatically supplied keyed alike [all operate from one key] and are supplied with full fitting instructions and fixings.
Ordering:
Please select your vehicle and choose how many doors you wish to protect from the PRODUCT: drop down box.
Next you will be asked to select which door you want to secure by clicking in the box against selected OPTIONS.
Lastly confirm the QTY required and click on BUY NOW to proceed to checkout.
SECURITY
Accessories

From £5.00

Replacement Keys
After continuous use all keys will wear. To ensure the correct operation of your additional Security Locks, the key may need to be replaced. Replacement Keys are available to order on line by following the steps below.

From £14.00

Shielding
Break-ins often occur as a result of the door skin being punctured to gain access to the internal mechanisms that open the door. The L4V shielding kits are door specific providing both internal and external protection against this method of attack.

From £46.00

Slamhandle
Allows for a SlamLock to be incorporated into a Steel replacement handle, protecting against the common vulnerability of the manufacturers handle being removed.

From £118.50

Slamlock
Our SlamLock automatically locks when the vehicle door closes and cannot be reopened unless the correct high-security key is used.

From £61.00