Replacement Keys
After continuous use all keys will wear. To ensure the correct operation of your Additional Security Locks, the key may need to be replaced.
Replacement Keys can be cut if the code stamped on the key is supplied.
Please follow the steps below to order online:
- Determine key type by consulting the key chart below (if you can't see your key, please call us)
- Choose key from drop down menu
- Amend quantity as required and click "Buy Now"
- Check basket contents and proceed to checkout
- Enter your details as required
- Enter key number in the "Comments and Key Number" box and complete your transaction.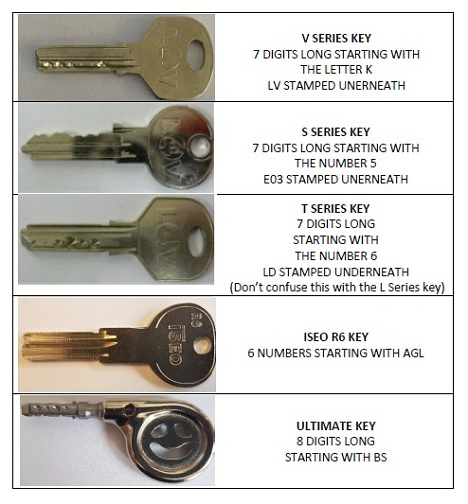 SECURITY
Accessories

From £5.00

Replacement Keys
After continuous use all keys will wear. To ensure the correct operation of your additional Security Locks, the key may need to be replaced. Replacement Keys are available to order on line by following the steps below.

From £14.00

Shielding
Break-ins often occur as a result of the door skin being punctured to gain access to the internal mechanisms that open the door. The L4V shielding kits are door specific providing both internal and external protection against this method of attack.

From £46.00