LoomGuard for Citroen Dispatch - [2016>current]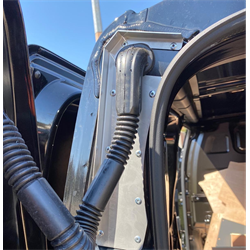 L4V Loom Guards protect the vulnerable areas of the vehicle where the wiring loom can be cut or tampered with in an attempt to break into the vehicle. Available for O/S & N/S Cab doors and rear Barn door.
Ordering:
Select vehicle from list.
Select option from PRODUCT from drop down box.
Confirm QTY required and then click on BUY NOW to proceed to check out.
SECURITY
Accessories

From £5.00

Handle Shield
Inexpensive and innovative product range that protects the vulnerable external area around the vehicles door handle.

From £46.00

Hook Lock
Improve security by adding an additional locking point to the door, working independently to the vehicles existing locking mechanism. Provides flexibility by allowing the user to decide when the deadlock is locked/unlocked.

From £61.00

Loomguard
Designed to prevent cutting of vulnerable wiring loom guard on select vehicles.

From £33.00

Replacement Keys
After continuous use all keys will wear. To ensure the correct operation of your additional Security Locks, the key may need to be replaced. Replacement Keys are available to order on line by following the steps below.

From £14.00

Shielding
Break-ins often occur as a result of the door skin being punctured to gain access to the internal mechanisms that open the door. The L4V shielding kits are door specific providing both internal and external protection against this method of attack.

From £46.00

Shielding
Break-ins often occur as a result of the door skin being punctured to gain access to the internal mechanisms that open the door. The L4V shielding kits are door specific providing both internal and external protection against this method of attack.

From £64.00

Slamhandle
Allows for a SlamLock to be incorporated into a Steel replacement handle, protecting against the common vulnerability of the manufacturers handle being removed.

From £118.50

Slamlock
Our SlamLock automatically locks when the vehicle door closes and cannot be reopened unless the correct high-security key is used.

From £61.00

Spare Wheel Protectors

From £98.00