Armaplate for Volkswagen Crafter - [May06>17]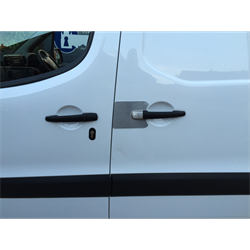 The Armaplate is designed to protect the existing manufacturers handle/locking system and prevent forced entry by reinforcing the immediate vulnerable area around the handle or lock, often targeted by thieves. Once installed Armaplate products require no user interaction.
Large Stainless Steel contoured exterior plates manufactured from a two plate design act as a strong visual deterrent, and the internal bolt fixed reinforcing plates stops this product from being easily ripped off the door.
This product is not available for Tailgate doors.
For doors with keyholes, we provide the keyhole version (not blank), unless you call us to specify once you've placed your order.
SECURITY
Accessories

From £4.20

Armaplate

From £54.00

Handle Shield
Inexpensive and innovative product range that protects the vulnerable external area around the vehicles door handle.

From £30.00

Hook Lock
Improve security by adding an additional locking point to the door, working independently to the vehicles existing locking mechanism. Provides flexibility by allowing the user to decide when the deadlock is locked/unlocked.

From £53.00

Replacement Keys
After continuous use all keys will wear. To ensure the correct operation of your additional Security Locks, the key may need to be replaced. Replacement Keys are available to order on line by following the steps below.

From £12.50

Shielding
Break-ins often occur as a result of the door skin being punctured to gain access to the internal mechanisms that open the door. The L4V shielding kits are door specific providing both internal and external protection against this method of attack.

From £40.00

Shielding
Break-ins often occur as a result of the door skin being punctured to gain access to the internal mechanisms that open the door. The L4V shielding kits are door specific providing both internal and external protection against this method of attack.

From £60.00

Slamlock
Our SlamLock automatically locks when the vehicle door closes and cannot be reopened unless the correct high-security key is used.

From £53.00